General Information
Name:
Apollo Sensu
Nickname/Alias:
Experiment 008/ Light Bringer
Age:
17
Gender:
Male
Height:
6'2"
Weight:
160 lbs
Looks and Appearance
Picture:
refer to avatar
Description:
Apollo is slightly taller then the avarage man. He has a deep blonde hair rather then the brown seen in the picture. His deep blue eyes can be very peirceing when he wants them to be. He is seen most whith his form fitting t-shirt that is made of a special balistics maritiral. He found this shirt in the labs experimantal armoury, it was left behind. This shirt is slim and light, but small arms fire, and impacts of most sorts are absorbed. However this is only stronger then regular bullet proff vest. Large caliber guns, and weapons with enough force behind them will peirce the clothing. Also, kives and blades with enough force and pressure behind them will also peirce. He has the same color, tights on under his baggy Kaki pants. These tights are the same matiral as the shirt, the two are a pair. The pants go down and qrap his feet, with extra padding under his feet, as well as extra grip on the bottom, more so then boots and shoes. Over this like I stated he wears regular slightly kaki pants, which completly concel his tights. Over his feet he waers low cut converse. He has a gun holster that goes across his shoulders, and holds his guns under his arms, at his upper ribs. He also has a tatical holster with a third gun on his right leg. This gun is a machine pistol with an a flashlight/laser sight, attached to the uderside of the barrel. He also has throwing knives on the back side of his belt. The knives and guns under his arms ar usually conceled by a pure white button down shirt that he wears, Th fabiric is very white, and suprisiningly thick, letting nothing under it be seen. Finally he carries a Katana on his back with a red silk strap, and black sheath. He also has identical tattos of the sun on his palms which he can create fire from.
Hair Color:
Deep Blonde
Eye Color:
Deep Blue
Skin Tone:
Tan (Even though he has spent much time in the facility)
Clothing:
Explained above
Body Type:
He is very well built. Muscular and with his enhancements stronger then regular human males. He is more wirey though, with his muscles visible but not bulging. He has a very well built core, chest and abs.
Personality and Traits
Personality:
He can be very serious on topics that require it, even scary at times. Delivering a power and fierce gaze that seem to gaze upon your very soul. However most of the time he is fun loving, dipite his past ans the expaerimentaion. He tries to make the most of things and look at the bright side. Some people see him as a jerk because he can be very sarcastic a times but he generally gets along with poeple unless he has reason not to. He is very observent and usually alwasys has a comment on whatever is going on. He gets upset when he feels like he is being left out of something and loves to plan and make desicions on battles or operations.
When it comes to his family and close friends he gets very protective. He doens't have many of either so he goes to great lengths to keep them safe when he can. He feel that if someone talks bad about them or hurts them in anyway, then that is a direct attack on him and he will act without mercy. When he gets angery, he tends to act rashly and most of the time if he can just on impulse. He will think things more thouroghly givin time but if no one intervens he will still act on his anger unless calmed. Around women he tries very hard to stifle his sarcasticness, unless he find they do not mind, and works to kepp them safe, if nothing elese then to show off. Givin all that has happened to him he may act like he trusts you, simply because thats who he is, but he will do a through background check before he truly trusts you. He very much enjoys relaxing and is sometimes called lazy, and when he can laugh with friends he sees that as a joy considering all that has happened in his life.
Likes:
He loves stratagizing and coming up with new ways to do things as well as exploring new things. His family and close friends are his top priority and likes spending time with them. He is alos found most times at a shooting range or practicing his hand to hand combat. He likes having a goal and feels almost usless when he has nothing to do.
Dislikes:
Apollo hates to be bossed around and treated as if he is nothing but a tool. He tends to rebel aginst thosewho treat him without respect and those who are openly asses to him usually end up in the hospital where they can learn some manners. He doesn't mind the dark but prefers to light it up. When he feels like he is being left out he will sometimes strie out on his won and prove that he is a vital asset. This is a rash behavior that can and usually leads to trouble. People who act like they are above everyone else urks him and he tries to go out of his way to put them in thier place wether it's practical jokes or an ass kicking.
General Traits:
He doesn't have any religion but doesn't knock others who do. HE enjoies beautiful things and likes seeing new things. Thats why he loves traveling. He is drivin by his urge to accomplish goals, becasue without goals and his sister, and close friends his life is meaningless
Religion:
Because of what has happened to him he doesn't belive in any god. Instead he belives that a man can make his own destiany.
Morality:
Good
-
Murderous:
8 (Doesn't mind killing as long as there is a purpose behind it.)
-
Law-Abiding:
0 (The laws of man stopped meaning anything when they made him ..well not a man)
-
Violent:
7 (Usually good natured until he finds a reason not to be)
-
Protecting Others:
4 others 10 for family and close friends
-
Neatness:
10
-
Truthfulness:
8 (Only a few reasons he needs to lie, others should be able to handle the truth)
Catch Phrase:
A hero is no braver than an ordinary man, but he is brave five minutes longer.
Residence and Skill Information
Residence:
The Government Research Facility
Occupation/Job:
He works as a bounty hunter for the nearby town
Animal:
Wolf
Elements:
Fire
Specialties:
He is a skilled marksman, skilled gymnist, and a skilled theif, especsially pick pocketing, and breaking and entering. Him and his sister like to take things that don't belong to them, but more for thr feeling the the need of things.
Talents:
He is a skiled theif and skilled in gymnastics
Other Information:
He was enhanced with a wolf, giving him enhanced streangth, agility, and speed, as well as hightened senses, like his sense of smell, sight and tase and hearing. His eyes in fact can see so well that he can see in the dark and heat signutres left over 2 hours. This also works for foot prints. Also the goverment used him and his sister to test their "speical' controlling experiments. This left him with the ability of Pyrokinesis, the ability to create and control fire with his mind. He himself has been made very resistant to fire and heat. He creates fire with his sun tattoos on his palms.
Experiment Number:
Experiment 008
Techniques, Pets, and Items
Unique Items:
Name:
Type:
bracelet
-
Sub_Type:
metal chain
Looks:
A small metal chain on his left wrist, with a small sun disk in place of one of the chain links.
Material:
Special Metal
Description:
Forms of Use:
Just a reminder of what he is, this chain is fire proof.
---
Weapons:Name:
Blade of Truth
Type:
Katana
-
Sub_Type:
Looks:
It has a black hilt and black sheath, with a red silk soulder strap
Material:
The blade is made out of titanium
Description:
It is a sword he found in the facilities weapon storage, he named it for the way the blade gleamed in the light, he thought that everyone who looked down it's blade who fear it so much that they would tell the truth.
Abilities:
Just a Sword
Weapons:
Name:
Veritas et Aeuqtias
Type:
Dual Guns
-
Sub_Type:
Offensive
Looks: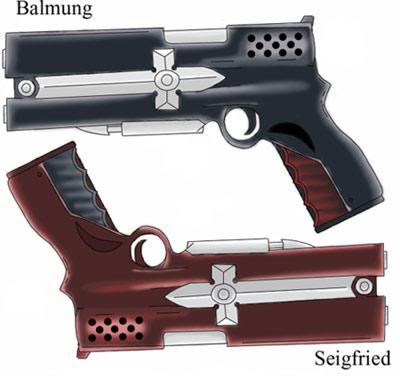 Material:
Metal that is unaffected by high tempetures
Description:
Special guns that are completly resistant to fire and high tempetures.
Abilities:
when they run out of bulles, Apollo can use his pyrokinesis to create bullets made of fire, which has no effect on the guns, because they are fire proof
Weapons:
Name:Type:
Throwing Knives
-
Sub_Type:
Looks: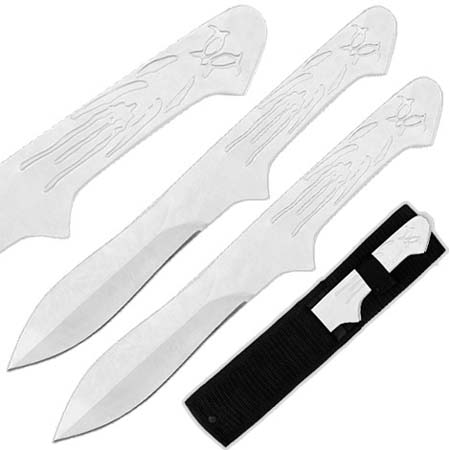 Material:
(the material that your weapon is made from)
Description:
A light titanium
Abilities:Weapons:
Name:
Type:
Gun
-
Sub_Type:
Looks:
A mechine pistol, with a flashlight/laser sight, attached to the underside of the barrel.
Material:
Metal
Description:
A mechine pistol with an extented clip and a flashlight/laser sight on the underside of the barrel. Usually in his tatical holseter on his right thigh.
Abilities:
---
Special Attire:
Name:
Balistics Suit
Type:
Body armor
Looks:
It is a pair, shirt and tights, look like his light blue shirt in profile pic
Material:
unknown cloth material
Description:
look abve in description, or refer to the light blue shirt in picture
Abilities:
Absorbs inpact of small arms fire and low level impacts
Significance:
Very lightweight and flexible, this is also fire proof
---
Techniques:
(special techniques that your character knows)
Name:
(the name of your technique)
Requirements:
(what does the technique require?)
Description:
(the description of your technique)
Knowledge:
(who all is allowed to know it? - everyone may know it unless it's very unique)
---
Pets/Companions:
NON
Background and RP Sample
History/Background:
Family:
-
Father:
-
Mother:
-
Siblings:
Artemis (Sister
-
Other:RP Sample:
Walking through the trees, clutching logs of wood he just cut in his arms against his chest. He thinks to himself as he walks, "I hope I got enough wood. This is suppose to last us all night." As he walks he looks around at the big trees that surround him. he has always loved the woods. The seem so peaceful. He noticces all the birds in the area have stopped singing..and then they altogther fly from the trees in a flurry of rustling leaves and feathers. He then picks up the smell of burning wood with his nose. "Either they got wood on their own or something is worng". He drops the wood and breaks into a sprint back home. As he gets closer smoke begins to fill the forest and the smell of burning death grips him. Finally he breaks the tree line breathing slightly hard. His eyes grow wide as he takes in the scene before him...His family house in flames...his brothers lying next to one another in a puddle of blood whith his mother lying motionless over their bodies, she to is splattered in blood. Forge falls to his knees as tears begin to fall from his eyes to the ground, his arms hanging limply at his sides. "Wh....What has happened here? Who would do such a thing?" he wispers. Then men walk aroun the oppisite side of the burning house. 4 of the criminals wearing read and black cloaks, all with devilish smiles on thier faces. The last one has his fathers lifeless body slung over his shoulder. "Oh look who has come home at last!? We were told there was another one. Haha This old guy here said you would stop us. Looks like he was wrong. You let them all down. Oh don't cry you'll be joining them soon." . The one in the front speaks to him with a grin on his face showing his yellow teeth. The big on in the back throws his fathers bloodied body on the pile of his family. Anger fills Forge, his hands form fists as he looks at the 4, his expression changes from sadness to pure hate and disgust. He sizes them up, the one in the front has a scar on the left side of his face and is of medium build, the one dirctly behind him is the biggest, muscular, maybe 6'2" an the other 2 stand on either side are scrawny. "YOU! MISRIBLE SCUM! THIS WAS MY FAMILY! NON OF YOU WILL LEAVE HERE ALIVE! YOU HAVE SHOWN ME PAIN, LET ME GRANT YOU THE SAME!!". Forge yells this as tears continue to fall from his face. He rises his hands, in fists above his head, extending his body in the process although he is still on his knees and slams his hands on the ground. This cause the ground to ripple like something is moving beneath the ground This catches the attackers off gaurad and the man in the front and the big man behind him are thrown back onto the ground. Forge doesn't hesitate, he quickly lifts one leg from the gound and slams his left foot on the ground. He is on his right knee now. Then he brings his left fist across as if he were to hit the scrawny many to his left across the face. The earth, in response springs from the ground and connects with the mand face. Forge quickly makes his fist into an open palm, fingers tightly together and twists his hand so his pinky side of his hand is tword the ground. The earth that struck the man reacts b turning and seemingly sharpens. Then Forge brings his arm down in a cutting motion causeing the earth he is controlling to come down and rejoin the earth, but not before severing the mans left arm. He falls to the ground screaming in pain, his arm gone from the shoulder down. The scrawny man on his right has recovered from the attack and launches a blast of flame at Forges right side. Forge reacts by punching the ground with his right fist and raising his right forearm bring up a wall of earth with it covering his body. But the force of the fire was to great fro the small wall made qucikly. The wall explodes as the fire connects sending forge sprawling on the ground landing on his stomach. Forge looks up at the man gritting his teeth as the other 2scramble to get back up. Forge presses his hands flat against the ground and sinks quickly as the man fires a second blast of flame. The scrawny man, fists raised, looks confused as to how his prey disappeared. Then Forge Leaps from the ground behind him. The man tries to trun but forge catches his right arm in his own big right hand and uses his left forearm to brak the mans arm at the elbow. He then picks the man up by the neck and clothing, being much bigger then the scrawny man, and throws him into the burning house. He yells after him "BURN Idiot! I THOUGHT YOU LIKED FIRE?!?!" . Screams follow as the man tries to get out but is unable and is burned alive. The other 2 look up in fright. The big one takes a step forward to stop him but Forge is already acting. He slides his left foot up in front of his body and in the same motion puches both closed fist forward. This causes a big chunk of stone to tear away from the ground in front of forge and fly to the mand. It catches him off guard and conntects, shattering on impact but sending the man air born to land on his back 5 yards away. Forge slides his foot back, assuming a wide stance and then with a grunt of effort brings both arms from his waist, and thrusts them skyward palms open. A spike rises from the ground bellow th big man impaling him and raising him high in the air. The only man left is the one with the scar across his left eye. he is stricken with fear. Seeing and hearing one of his men pain at the loss of an arm as he sqwirms on the ground, haveing seen another thrown into fire and burned alive, and the third, the biggest, driven back and killed almost to fast to believe... he is frozen in fear. He watches as Forge walks over to the screaming and sqwiirming man and raise a boulder over him and drop it. A disgusting squish follows and the screaming and sqwirming stops. The only noise is the sound of fire and sobs. He looks at Forge and realizes he is no longer crying. His face is filled with anger and pain...but he is not crying. He looks around and realizes he is the one crying.. "Please! You must stop! This isn't what your family wanted was it? For you to be a murderer? I won't tell anyone. Just let me go please!" Forge walks over to the man, "The time for words is over. You are the scum of the world. What would you know of my family? Nothing. You have taken from me joy and happines....and my life. Let me take the same from you to make it even." The mn tries to run but Forge is to close, he grabs the mand by his collar with his left hand as he begins to scramble away and punches him in the face hard with his right. The man falls to the ground and spits out blood and a tooth. "Pleezz" he slurrs "I give you anything you want!' Forge looks down on the man, "I want my family back" with that Forge widens his stance and thrusts his left arm up, a pillar of earth shoots up and throws the man into the air. He then brings his hands together over his head and brings them down to his sides quickly seperating his hands as he moves. This cause the ground before him o open up, looking like the jaws of a creature coming from the earth, jagged edges of stone appear to be teeth. The falling amn is screaming and falls straight into the hole (Jaws) created by Forge. A sound of the man hitting the ground hard is heard. "NOOO!". Forges does the motion and the Jaws close. The screaming is no more. all that can be heard is the sound of the fire burning the house and the smell of death is strong. Forge doesn't care, he walks over to his now dead family and falls to his knees. He turns his father over and hold the dead man to his chest as he begins to cry. His tears falling onto the mans bloodied clothes. "I'm so sorry father. I should have been here. I should have proteced the family better. This is my fault." He buries his face in the mans chest as he cries over his lost family.